Call for Submissions
&others, a speculative science / speculative fiction magazine, invites artists and writers to submit!
Now accepting pitches for the January 2019 free online issue. Read the guidelines below and submit your pitch before July 31st, 2018.
Table of Contents
Three Eras

Pre-Settlement (generations 1-3)
Rogue Science (generations 4-6)
Future of Science (generations 7-9)

We are looking for pieces that help expand our understanding of the Dweller Universe. That said, we invite contributors to apply their existing interests to that end.
For example, should your interests lie in geographical information systems, you can map the topographical impact of a natural disaster on the Dweller landscape; should they lie in the fine arts, you can create a watercolor or ink sketch of the impact; should they lie in anthropology, you can design an imaginative case study on how communities recover from natural disaster, using the Dweller Planet as a model.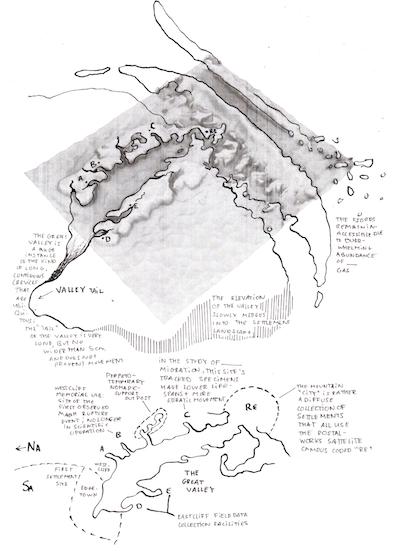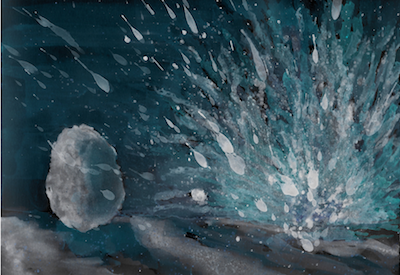 Figure 1.
Here, for example, are two
ways of observing
an explosion in a desert area. One is a watercolor illustration. The other is a map composed by three different people: one who created the shape of and arrangement of the mountains, one who ran an erosion model to create more realistic topography, and one who annotated it with historical narrative. Each of these representations is powerful in different ways.

We are especially interested in combinations of analog and digital; speculative and scientific; narrative and visual.

Pitches for text-based submissions should be around 100-500 words and should reference at least one peer-reviewed scientific work from any Earth journal, in addition to at least one publication in the Dweller Universe. These include any text or images published about the Dweller Universe through the TBC website or social media accounts. You can reference these existing observations, argue with them, mention them, or go further into depth on any of these phenomena.
Pitches for visual art should be around 50 words and cite one visual reference, preferably from a scientific journal.
Collaborative submissions are also welcome.
Along with your pitch, please include a short (1-3 sentences) bio. If you'd like, you may include a cover letter or portfolio, but our editors will be prioritizing quality over qualification.
We are now accepting pitches until 11:59 p.m. on July 31st, 2018. We will do our best to respond to all pitches by the end of August.
Feel free to submit up to three pitches. If you are submitting work to multiple publications, we ask that you inform us as soon as possible if your work is accepted elsewhere. Previously unpublished work only, please.
To submit your pitch, please send the required materials to tbc.and.others@gmail.com
We look forward to reading your work.
Sincerely,
TBC Editorial Staff

In speculative and science fiction, there may be axioms: rules governing the universe. In the Dweller Universe, certainly, there are axioms—but they are not known; rather, they are discovered and created in real time as contributors add to Trouble Book Club's repository of work.
There is, however, a known history.
After life on Earth becomes unsustainable, a small group of citizens, artists, writers, and scholars occupy the Dweller Planet in the hopes of seeking a more habitable environment. What they find is infinitely more complex than they'd imagined.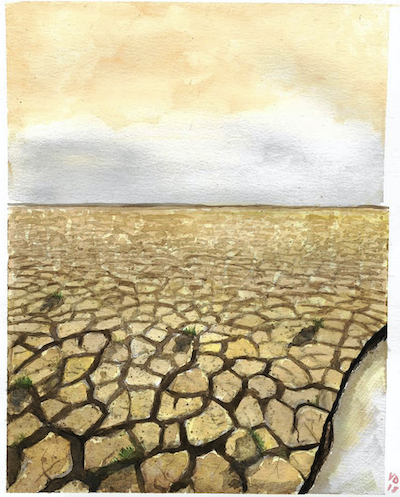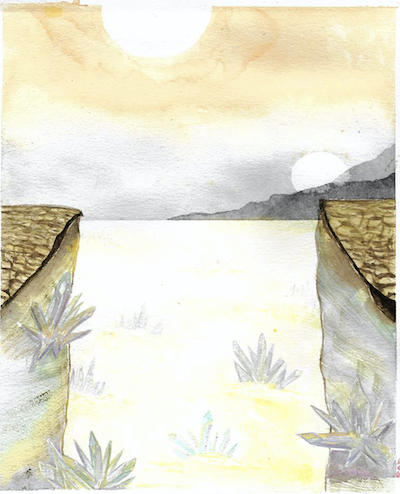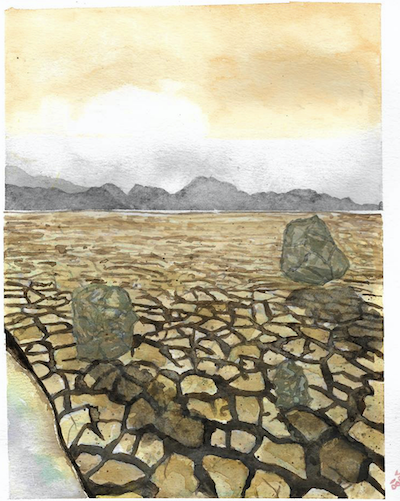 Figure 2. In this dry, desolate world, the air is thick and moist with dust. The surface of the land is subject to major ruptures. Huge craters filled with orange crystals, like teeth, glimmer in a perpetual twilight of twin suns. Within each crater lies a translucent, deadly liquid which bends the light and tricks the eye. Low in oxygen and high in noble gases and airborne poisonous minerals, this liquid sustains the native plant and animal life but threatens the lives of the human settlers. Oceans, rivers, and lakes remain unpassable. Water, reclaimed from the air and precipitation, is potable but foul to the tongue.

Believing they will be the first and last generation of humans to occupy the Planet, the settlers struggle to build some semblance of a civilization. In the context of shared urgency, little time and energy is devoted to making walled gardens of knowledge accessible only to the science and engineering experts of the group. Everyone works together to understand the world they have suddenly found themselves in.
Nine generations later, the settlers are no longer stranded. New technologies and methods of data collection have been developed, intergalactic communication has been restored, and the Lost Mail and &others have been curated. Instead, they are faced with a different kind of struggle: Having re-established contact with Earth, the settlers must decide how best to fuse the futures of two planets in a mutually sustainable way--one that allows for technologies to be accessed and shared, but prevents them from falling into the wrong hands.

Submitting to &others means taking part in collective world-building, but without axioms. All that is possible are observations and reflections. Those are the tools by which we discover our own world, and we use them to discover this mostly-unfamiliar world, too.
In composing your pitch, you can think of yourself as a scholar, a citizen, an artist, an engineer, and so on, in this universe, in any of the following eras. Earlier on, you have fewer resources, in terms of equipment, and the environment is more dangerous. Later on, you may have more equipment, but more of the surroundings might be destroyed or off-limits for preservation purposes.
First Era: Pre-Settlement
At first, there were only about 160-200 settlers on the Planet. By the end of the first generation, that number rose to 20,000 due to an influx of new settlers. This was not always going to happen. Those initial 160-some settlers suspected they might be the last group of humans to arrive to this planet.
Generation 1
Marga Grimm was a leading scientist of the first generation of settlers. Trained as a biochemist and amateur sociologist, she called herself a "socionaturalist" and made most of the original descriptions and observations of key local flora and fauna, particularly the common Loro mushroom, the rabid-tendril vine, the Glassback beetle, and the barnacle-like stoneroses in their peculiar variety. At the end of her life, she had transitioned to calling herself a "collector of marks" and spent most of her days looking for patterns and textures on surfaces of rocks. She was respected for her accessible naturalist studies, the rigor of her biochemistry experiments, and the cogent humility of her claims. Her final work, "Storytelling Means and Meanings" was therefore only received well because of her overall scientific legitimacy. In its own right, it was a collection of wild speculations about how the vines, mushrooms, barnacles, and beetles were all engaged in a communicative dance that could not only be understood by people, but also "spoken" using chemical and biological triggers. Grimm called this dance the Dweller Language.
Generation 2
O-Sa'k wrote lyrical pieces on atmospheric and climate phenomena, including seasonal variation. Strongly influenced by M. Grimm, O-Sa'k spent the core of her scientific career as a socionaturalist but ultimately continued Grimm's work on the then-widely-suspect idea of the Dweller language. This scholar was the first to coin the term Dweller to describe a communicative cell: usually, a boulder, no more than 10 meters in any direction, which appears to induce the same response from any part of its surface given a particular chemical or biological trigger. O-Sa'k also went on to describe terms that - as they claimed - existed only in the language of the Dwellers but nevertheless found their way into the humans who settled this planet, such as "Herenow" and "Becoming."
Generation 3
Outside contact having been established, and Intergalactic Postal Works already operating between the many scattered settlements in the post-climate-destruction of Earth, the Dweller Planet is faced with a significant struggle. The concepts related to the Dweller language are considered dangerous, and are indeed at times wielded by dangerous people.
Second Era: Rogue Science
New methods of data collection allow for the confirmation of what was thought to be wild fantasy, perpetuated by a local cult started around the 60th year of the settlement: the whole planet is sentient, and the crystals that appear ubiquitous on its surface and contain memory, while the many plant and animal species, though small and well-hidden, serve key roles in a complex system of using and creating this planetary memory.
Generation 4
Survival of a major environmental crisis by way of improving communication with Dwellers. These communication methods are still considered divination, however, rather than actual science.
Generation 5
Non-invasive 3D scanning, coupled with high-resolution non-toxic, biodegradable 3D printing or VR/AR setups has been sufficiently refined and developed to be usable. This allows Dwellers to observe things in a way that was not previously possible, and lays the foundation for revisiting and confirming prior claims.
Generation 6
To be collectively decided - pitches welcome!
Third Era: Future of Science
Communication is intergalactic. Contact with Earth has been restored. Earth has, in fact, avoided its own major crises by way of shared knowledge with the Dweller Planet. Spanning generations 7-9, this, too must be collectively discovered. This is the "present day" relative to the "present" of Trouble book Club. What are the burning questions? Ask them and/or answer them in your pitch or article!

Send your pitches - or questions - to tbc.and.others@gmail.com. We look forward to hearing from you!

IV. Acknowledgements
Instigated by Kit Kuksenok in Jan. 2018. Co-created with:
Cora Lee (Character Design; Graphic Design; Lost Mail Art Direction)
Victoria Downing (Watercolor Paintings, 3D Renders, World-Building)
Gaines Hall (Digital Illustrations, Writing, World-Building)
Saga Milena Briggs (Writing, Editing)